Macros

User Guide Index

An Overview of Sawmill

Reports

Filters

Understanding the Reports

Macros

The Macros icon is where you can create a new macro or manage the existing macros.
To create a new macro, select that from the drop-down menu and you then you will be able to name and add actions.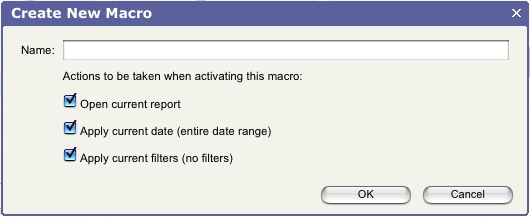 Once you name the macro, then you can have it open the current report, apply the current date and apply filters. You can set all or only some of these three choices. When your settings are set and saved, then your macro becomes part of the drop-down menu, you simply select it, to run the macro. To make changes, select Manage Macros, and you can view your current macros or delete them.