Miscellaneous

User Guide Index

An Overview of Sawmill

Reports

Filters

Understanding the Reports

Miscellaneous

The Miscellaneous icon drops down and you can choose to email your report, save changes, save as a new report, and also get the database information.
If you want to email your report, then you fill in the fields for your email address and the recipients, also putting in a subject line.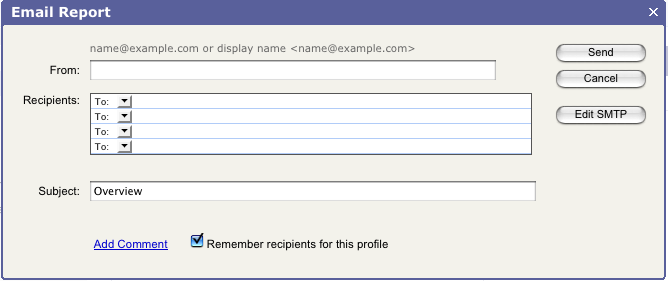 If you select Save Report Changes, then this dialogue will pop-up:

Select the Save as New Report, if you want to rename the report, and save the report within a group, and with certain filters.

When you name the report, you also have the option of seeing it in the menu, your report will show up after the Log Detail selection.
If you want to remove this report, select Customize Report in Config and you will see be able to select Delete, for your particular report. Once you save your changes, then your report will now longer be an item along the Report Menu bar.
When you select the Database Info, you will see a summary for the database, including log entry information and whether you want to update or rebuild the database: