Customize Report Element
Using the Customize Report Element
The Customize Report Element button is available for most report elements to customize the graphs and/or the table of a report element while viewing reports.
What is the difference between Customize Report Element within a Report and the Reports Editor in Config?
a.) The Reports Editor in Config shows all report element options, i.e. filters, title, etc. Customize Report Element only shows a part of all available options to quickly change common options, i.e. to show a graph for an additional field or to set a different sort direction.
b.) The Lite version does not allow the user to access the Reports Editor in Config, the only option a Lite user has is to set any of the available options in Customize Report Element.
In summary:
a.) Customize Report Element gives quick access to some report element options within reports.
b.) Customize Report Element is the only way to customize a report for Sawmill Lite users.
c.) In some reports, like Overview, Session Paths and Paths through a Page have no Customize Report Element option.
d.) A Root Administrator can define View/Access for Customize Report Element such as access to graph options and pivot tables. This means that non-root-admins may have no access or limited access to all tabs.
e.) In order to save changes, you must save under "Miscellaneous", "Save Report Changes".
You can find the Customize Report Element function, by selecting a report and on the far right of the report you will see "Export Table" and "Customize". Once you select "Customize", then this dialogue box will open: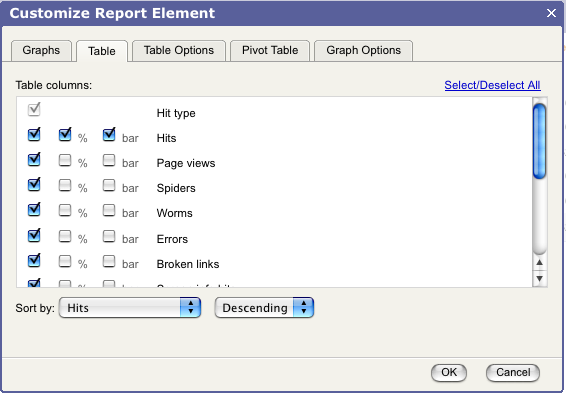 Customize Report Element Tabs
Graphs
Sort by, determines how to sort the graphs.
Show legend,check to show the graphs legend. If sort by is equal "All descending" or if no table is shown then you should always check this option. Chronological graphs have no legend because date/time values are Fields list with checkboxes.
Check the fields for which a graph should be shown or click Select/Deselect All.
Table
It contains sort by, sort direction and the table columns in the fields list.
There is only one checkbox for non-aggregating fields (text column) and three checkboxes per aggregation field which can be read as "show numerical column", "show percent column" and "show table bar graph column".
Table Options
Set the number of rows, and the default setting means the number of rows after a login, or if a filter is applied.
Pivot Table
Select the box for showing the table it the number of rows and how the fields will be sorted
Graph Options
Select bar, line or pie chart, with the number or rows and variables, including the screen size of the graph.